Summit Towing Are Your Vehicle Removal Experts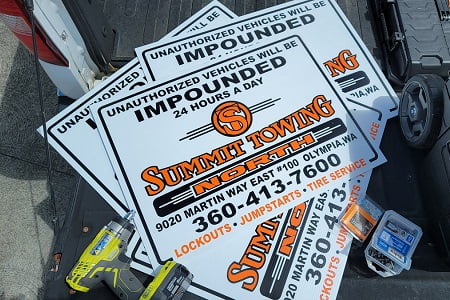 If you're looking for a reputable private property towing company in Tumwater, Washington, look no further than Summit Towing. We have been providing around-the-clock service in the Olympia, Lacey, and Tumwater communities for over 20 years. We can help both residential and commercial clients with vehicle removal, vehicle impoundment, parking violations, and more. Our private property tow-away services will remove any inoperable or unauthorized vehicle blocking entrances, exits, driveways or prohibited parking zones.
Private property towing is an effective solution for both homeowners and business owners who find a vehicle blocking the entrance and exit to their residential or commercial property. The Summit Towing fleet includes light-duty and medium-duty trucks driven by highly-experienced operators with multiple years of experience. We can tow anything from a standard passenger or recreational vehicle to box trucks, large vans and some construction vehicles.
Need to Remove an Unauthorized Vehicle? Give Us A Call
We understand the frustration of having an unauthorized vehicle blocking your entrance, exit, driveway, or parking spot. It can feel like a violation of your ability to move or do business. If someone obstructs your driveway with their vehicle, it can mean arriving late to work. If a vehicle is blocking your pick-up/drop-off or limited space parking lot, it can lead to a loss of revenue. That's not all though, a vehicle parked in violation of public property, such as a fire hydrant, will make it difficult for first responders to do their job. That's why we're committed to providing professional towing service as quickly as possible. Our team is available 24/7 to dispatch a tow truck operator immediately. Whether you need to tow an abandoned vehicle or have an inconsiderate driver towed off your property, do not worry; the vehicle removal experts at Summit Towing will have it gone in no time.
Need an Auto Wrecker in Tumwater?
While Summit Towing focuses on light-duty and medium-duty towing, our sister company Summit Auto Wrecking can help remove any unwanted vehicle from your property. They are a full-service auto wrecking and vehicle salvage company that will take your junk car. Auto-wrecking is the perfect solution for those who have an old vehicle taking up space on their property. If you need that clunker removed, we'll be there to help you out in no time.
---
When You Need Towing Service Give Us A Call
Summit Towing's private property protection services extend along I-5, US 101 and Thurston County with three separate locations. Call us today if you have an unwanted vehicle making your life difficult. Our 24/7 response time will ensure your call is answered immediately and you get the service you need; customer satisfaction guaranteed.