The Search For Towing Near Me Is Over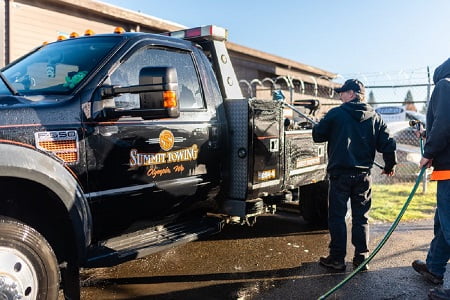 If you live in Lacey, WA and need a professional towing company, look no further than Summit Towing. For over 20 years, our staff has been offering expert towing services, and we're committed to delivering high-quality service as quickly as possible.
Our towing comprises multiple light-duty, flatbed and medium-duty vehicles. So no matter what size your car is, we have the right tools and equipment to do the job safely. Because breakdowns can happen at any time, we have a staff member on call 24 hours a day, seven days a week, to ensure that you get the assistance you require as soon as possible.
It's stressful and inconvenient when your automobile breaks down, but finding a towing company shouldn't be. With Summit Towing, you can rest assured that you're in good hands. We have a long history of satisfied customers in Lacey, WA and the surrounding area, and we're ready to add you to our list.
Give us a call today, and let us show you why we're the best towing company in town.
---
Lacey's Trusted Towing Services
Summit Towing's vehicle recovery service extends along I-5, US 101 and Thurston County with two separate offices.
Each driver is licensed, bonded and insured to drive a combined fleet of over ten vehicles. Ranging from auto-wrecking flatbeds to light- and medium-duty vehicles, you can be confident we have the vehicle for your towing needs. To ensure low response times, we focus on towing services, which means we do not provide roadside assistance. Instead, our knowledgeable operators can help bring you to where you need to go for repairs and maintenance.
Our wide range of services can help you with:
Light-Duty Towing
Medium Duty Towing
Vehicle Lockout
Vehicle Winch-Out
Private Property Towing
Abandoned Vehicle Removal
Parking Lot Management
Accident Recovery
Do you require Spanish language assistance? We are proud to provide bilingual service and ready to help our Hispanophone neighbors with our full roster of services.
Light Duty Towing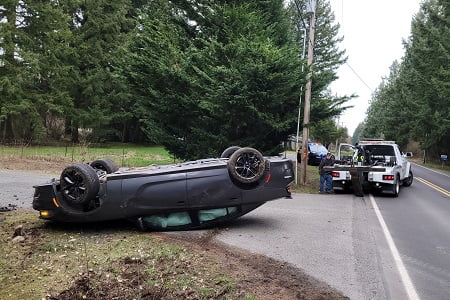 Whether you require a standard towing service or something more specialized, our light-duty tow trucks are up to the task. Most of our fleet consists of well-maintained, show-ready tow trucks, so we can answer multiple calls simultaneously. We will ensure your vehicle is towed safely and securely in record time.
Medium Duty Towing
Although we only have one medium-duty truck, we ensure the same response time as our motorcycle and light-duty towing services. Our medium-duty tow truck is equipped to handle a wide range of vehicles, from box trucks and buses to RVs and construction equipment. We have the right truck for the job, no matter what you need to be towed.
Motorcycle Towing
Towing a motorcycle is a delicate process. These high-performance machines require extra care to avoid damage. With over 20 years of experience, our team at Summit Towing are the experts in motorcycle towing service providers. We will ensure your motorcycle arrives at its destination without a scratch.
---
We Are Your Go-To Local Towing Company
Selecting for care in towing can be challenging. Any mishap can be uniquely distressing, whether you have an accident or breakdown on your property or the highway. You need dependable, expedient towing providers in Lacey, Washington, which is why you need Summit Towing.
For two decades, customers have trusted Summit Towing as their preferred towing company in Lacey, WA and the surrounding area. For the last twenty years, the team at Summit Towing has aimed to deliver excellent towing services as quickly as possible to Lacey, Washington and Thurston County.
Call us today, and our committed staff will answer your query without delay, ensuring that you get the speedy service you require.