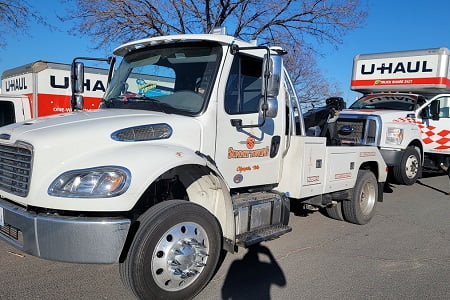 When searching for the right towing company, you often see providers advertising light-duty, medium-duty and heavy-duty towing. But what constitutes a lightweight vehicle when they all weigh multiple tons? Summit Towing focuses on light-duty and medium-duty classifications. Light-duty towing is for vehichles weighing under 10,000 pounds. Medium-duty towing is for vehicles weighing between 10,000 and 26,000 pounds, this class of vehicles includes box trucks, delivery vans, large passenger vans or buses and some construction equipment. While our medium-duty trucks can handle vehicles up to 26,000 pounds in weight, if your vehicle is over that limit, we will recommed a qulified heavy-duty towing company solution.
Commercial Towing
Commercial vehicles are often considered medium-duty, with construction vehicles, box trucks and large delivery vans falling into that category. However, because commercial vehicles are often used for business purposes, their downtime can cost a company money. That's why Summit Towing offers reliable commercial towing services at all hours and days of the week for businesses in Olympia, WA and Thurston County.
Motor Home Towing
Your RV is more than just a vehicle. It's your home away from home. That's why we take extra care when transporting your RV. Summit Towing also provides towing services for motor homes and recreational vehicles. Our medium-duty tow truck is equipped to handle up to 13 tons of weight and can tow your RV with ease. If your RV or commercial vehicle breaks down near Olympia, call Summit Towing. Our customer service is second-to-none. We have a dedicated staff member ready to dispatch an expert driver at a moment's notice. If you have a medium-duty job in need of a professional towing company, give Summit Towing a call at (360) 754-8858!