Getting locked out of your car is undoubtedly a frustrating and inconvenient experience. Whether it happens in the middle of the night, during rush hour, or in an unfamiliar area, it can leave you feeling helpless and stressed. In such situations, emergency car key locksmith services can be a lifesaver. They offer quick assistance to get you back on the road in no time. This blog post will explore when and how to seek help from an emergency car locksmith service, ensuring you have the knowledge to handle such situations efficiently.
When to Seek Emergency Car Locksmith Services
1. Car Lockouts:
Locking your keys inside the car is a common scenario that can happen to anyone. Whether you accidentally leave the keys inside the car or misplace them, an emergency car locksmith can swiftly unlock your vehicle without causing any damage.
2. Lost or Stolen Keys:
If you have lost your car keys or they have been stolen, it's crucial to seek emergency locksmith services to prevent unauthorized access to your vehicle. A professional locksmith can replace your keys and reprogram any necessary transponder keys.
3. Broken Keys:
Keys can break off inside the lock or ignition due to various reasons, such as wear and tear or accidental force. Attempting to remove a broken key on your own can further damage the lock mechanism. It's best to rely on an emergency car locksmith who has the expertise and proper tools to safely extract the broken key and provide a replacement if needed.
4. Faulty Locks or Ignitions:
Malfunctioning locks or ignitions can leave you unable to access or start your vehicle. Instead of trying to fix the issue yourself, which can potentially cause more harm, contact an emergency car locksmith. They can diagnose the problem and either repair the lock mechanism or replace it with a new one if necessary.
How to Seek Help from an Emergency Car Locksmith
1. Stay Calm: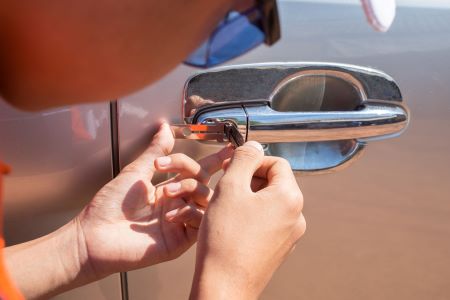 It's important to remain calm and composed when facing a car lockout situation. Panic can cloud your judgment and lead to impulsive decisions. Take a deep breath and assess the situation.
2. Find a Reliable Locksmith:
Research and identify reputable emergency car locksmith services in your area ahead of time. Look for locksmiths with positive reviews, certifications, and experience in automotive locksmith services.
3. Contact the Locksmith:
Once you have chosen a reliable locksmith, call their emergency hotline. Provide them with the necessary details, such as your location, the type of service required, and any specific issues you are facing. A professional locksmith will prioritize your situation and dispatch a qualified technician promptly.
4. Verify Credentials:
When the locksmith arrives, ask to see their identification and proof of certification. A legitimate locksmith will have no issues providing these documents. Verifying their credentials ensures that you are dealing with a professional locksmith who will carefully handle your car.
5. Transparent Pricing:
Before allowing the locksmith to proceed with the service, request a detailed quote for the work to be performed. Ensure that the pricing is transparent and there are no hidden charges. A reputable locksmith will provide an honest quote and explain any additional costs upfront.
6. Professional Service:
Observe the locksmith's professionalism and expertise during the service. A skilled locksmith will use proper tools and techniques to minimize the risk of damage to your vehicle. They should also be able to answer any questions you may have and provide guidance on maintaining your car's locking mechanisms.
7. Follow-Up Services:
After resolving the immediate issue, inquire about any additional services the locksmith offers. They may provide lock installations, key replacements, or transponder key programming. Establishing a long-term relationship with a trusted locksmith can be beneficial for future automotive locksmith needs.
In conclusion, emergency car locksmith services play a crucial role in helping individuals regain access to their vehicles efficiently and safely. Whether you find yourself in a car lockout, lose your keys, or face a broken lock or ignition, seeking professional assistance from an emergency car locksmith is the best course of action. Remember to stay calm, choose a reliable locksmith, verify their credentials, and ensure transparent pricing. By following these guidelines, you can confidently navigate emergency car lockout situations, knowing that professional help is just a phone call away.
Your Local Car Locksmith Specialists in Olympia, WA:
Are you currently facing a car lockout situation in Olympia? Take a deep breath and relax because Summit Towing is here to rescue you. As a trusted 24/7 car locksmith service, we understand the frustration and stress that comes with being locked out of your vehicle. Our licensed team is equipped with the necessary skills and tools to quickly and safely regain access to your car. With a focus on efficiency and customer satisfaction, we strive to provide prompt assistance that will have you back on the road in no time.
With a diverse range of solutions, our service roster caters to your various needs. Our team of licensed and insured operators is not only professional but also courteous and knowledgeable. You can rely on us for assistance with the following:
Light-Duty Towing
Medium-Duty Towing
Motorcycle Towing
Flatbed Towing
Vehicle Winch-Out
Private Property Towing
Abandoned Vehicle Removal
Parking Lot Management
Don't hesitate to contact us for reliable and professional locksmith service when you need it most.