We Are Your Local Towing Experts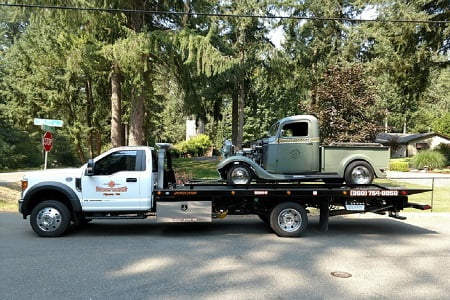 Summit Towing provides local flatbed towing in Lacey, Washington. We've provided flatbed towing services to the Thurston County area for over 20 years. Whether you're broken down in your driveway or on the side of the highway, we can help.
Flatbed towing is often required when wheel-lift or hook-and-chain tow trucks are impractical. In many cases, the vehicle can not be shifted into neutral, wheels are missing, or they are just plain inoperable. This method of towing allows for the safe transportation of a defunct vehicle without endangering other operators on the road.
It's also an excellent method for transporting a show vehicle without damaging the paint job or wearing the car from tip-top shape. Regardless of why you need a flatbed tow, we're dedicated to providing around-the-clock professional towing service as quickly as possible.
Long Distance Towing
In addition to local flatbed towing, we offer long-distance flatbed towing services. All Summit Towing providers are licensed and insured to drive you and your vehicle to any destination in the state of Washington. If you require a flatbed tow outside of Thurston County, we can still help. Let us know, and we will get you home safely.
---
What is Light & Medium Duty Towing?
When searching for the right towing company, you often see providers advertising light-, medium- and heavy-duty towing. But what constitutes a lightweight vehicle when they all weigh multiple tons? Because Summit Towing does not provide heavy-duty towing services, we will focus on light- and medium-duty classifications.
Light-duty towing is for vehicles weighing up to 10,000 pounds (5 tons). This class of vehicles includes your standard passenger vehicle, motorcycles, go-karts or all-terrain vehicles. Summit Towing provides tow trucks for light-duty towing services, which is the safest way to transport your vehicle.
Medium-duty towing is for vehicles weighing between 10,000 and 26,000 pounds (5 to 13 tons). This class of vehicles includes box trucks, delivery vans, large passenger vans or buses and some construction equipment. Summit Towing uses flatbed tow trucks for medium-duty towing services as well.
Our light-duty and flatbed trucks have a weight limit of five to six tons, while our medium-duty truck can handle vehicles up to 13 tons in weight. If your car is over that limit, you must find a heavy-duty towing company with the right equipment for the job.
Commercial Towing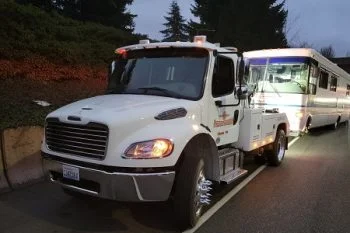 Commercial vehicles are often considered medium-duty, with box trucks and large vans falling into that category. However, because commercial vehicles are often used for business purposes, their downtime can cost a company money. That's why Summit Towing offers reliable towing services at all hours and days of the week for businesses in Lacey, WA and Thurston County. If you have a medium-duty job in need of a professional towing company, give Summit a call!
Motor Home Towing
Your RV is more than just a vehicle. It's your home away from home. That's why we take extra care when transporting your RV. Summit Towing also provides towing services for motor homes and recreational vehicles. Our medium-duty tow truck is equipped to handle up to 13 tons of weight and can tow your RV with ease.
If your RV or commercial vehicle breaks down near Lacey, call Summit Towing. Our 24/7 dedicated team member will ensure your call is answered immediately and you receive the required service.
---
When You Need Local Towing, Give Summit A Call
Choosing a towing firm that will treat you and your car respectfully might be difficult. Any accident, no matter how small, can be devastating. You require trustworthy, rapid flatbed towing services in Lacey, Washington, which is why you need Summit Towing.
For over two decades, customers have relied on Summit Towing as their preferred towing partner in Lacey, Washington, and the adjacent areas. The team at Summit Towing has worked hard these twenty years to provide outstanding flatbed towing services as quickly as possible in Lacey, Washington and Thurston County.
Call us today and our committed staff will answer your query without delay, ensuring you get the speedy flatbed towing service you require.